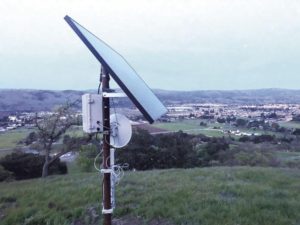 Posted: Tuesday, April 24, 2018 11:18 am
For new Morgan Hill neighborhoods, outlying ranches, or businesses where fiber-optic cable lines haven't yet reached, getting adequate high-speed internet may not only be frustrating, but it can hinder economic progress. To help bring internet services from these areas into the fast lane, Bullet Wireless is one company that offers services that help to increase internet speed and quality.
It's all in a name for Bullet Wireless—no need to lay lines. In underserved new neighborhoods such as Paradise Valley, Bullet installs Micro-Pop Solar relay towers, which can provide high-speed internet to areas that Charter or Frontier won't reach. The relatively small size of Bullet's Micro-Pop local towers also requires far less permitting, according to Bullet Wireless Chief Executive Officer Trevor Bacolini.
"This allows us to build a local network quickly while a standard substation may take up to six months," Bacolini said.
Bullet has continued to expand its tower range to reach more and more customers in remote areas. For a variety of needs, Bullet uses Micro-Pops, which stand between seven and eight feet, a standard 15 to 20 foot tower for larger jobs, and 40-foot towers for urban applications.
For Charter and Frontier, it's a matter of profitability when either company decides to lay more cable. Running new cable lines can cost up to $1 million per mile, and if either company cannot make a profit from the potential new customers, they won't lay the new lines.
"Bullet Wireless is looking forward to expanding into the underserved communities of Hollister and Aromas in the near future," Bacolini said. "We have a lot of businesses in these communities and we look forward to improving their quality of life with speed they can count on."
Aside from Bullet's work in Paradise Valley in west Morgan Hill, they are working to connect customers along Watsonville Road and DeWitt Avenue, to several ranches on the north end of Morgan Hill, along with an extension of services to Gilroy. Bullet hopes to connect between 11,000 to 12,000 customers with high-speed internet.
The speed for some customers has skyrocketed, going from .5 megabytes to 30 megabytes. That's like going from a horse and buggy to the Starship Enterprise.
"At Morgan Hill Cellars they were always having trouble with their internet," Bacolini said. "Since they've been with us, they can't believe the kind of service they've been getting."
Today's modern large-scale ranching operations are not your old-fashioned "Farmer John" kind of outfits anymore. Increasingly, they require extensive high-speed internet.
"If you have a 3,000-square-foot ranch, you might have more than 50 water distribution sites, remote cameras and a lot of machinery that require internet, and you won't be able to run that unless you have between 75 megabytes to 100 megabytes," Bacolini said. "We have several that exceed 100 terabytes, and if you are on a satellite connection, the overages can cost up to $50,000 in fees. We don't believe in slowing people down; you can run unlimited wherever you are."
Bullet's Micro-Pop solar towers are direct competitors to large satellite high-speed internet providers such as HughesNet, which is good news for online gamers. While HughesNet internet depends on connections with satellites, Bullet's towers are nearby. The difference of a millisecond can make online gaming not only frustrating but almost impossible.
For residential customers, a package that would allow two people to stream YouTube videos will cost about $100 a month. The next package up, which would bump a home's internet access to the national average, costs $150.
For businesses, which require more upload and download speed, 100-megabyte service will cost between $1,300 to $1,500 a month. Lower, burst speed, packages for businesses cost between $500 and $600 a month.